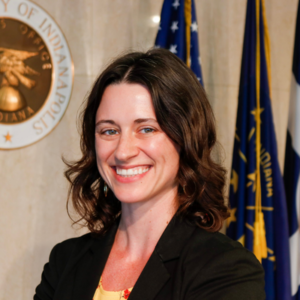 Scarlett Andrews serves as Deputy Mayor of Economic Development for the City of Indianapolis. Prior to assuming this role in December 2022, Andrews served two years as director for the Department of Metropolitan Development (DMD), where she led the City's community and economic development, affordable housing, planning and zoning, and historic preservation.
As Deputy Mayor, she focuses on Indianapolis' downtown recovery strategy and negotiations of major real estate economic development transactions, including the City Market Campus, Cole Motor Redevelopment, Elanco HQ, the sixth expansion of the Indiana Convention Center at Pan Am Plaza, affordable housing, mixed use office and commercial developments, and brownfield redevelopment projects.
Scarlett moved to Indianapolis from New Orleans in 2015 and began her tenure with Mayor Hogsett's administration as a project manager in 2017. She is a board member of Tourism Tomorrow Indy and the White River State Park Commission. Andrews graduated with an undergraduate degree in International Studies and Spanish from the University of Mississippi and holds an MA in Latin American Studies from Tulane University.