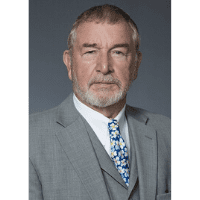 Robert has distinguished himself as one of the Midwest's most respected trial lawyers, having tried more than 200 cases in courtrooms throughout the United States.
His trial work includes highly complex cases in the areas of wrongful death, products liability, commercial litigation, insurance defense, auto and premises liability.  He is also involved in the mediation process and has mediated numerous complex legal issues over the years.
Robert has earned the respect of his legal colleagues and opposing counsel, as well as that of the Judiciary before whom he regularly appears in trial. Indiana University Robert H. McKinney School of Law honored him with the 2015 Distinguished Alumni Award. Robert was also named as one of Indiana's top 15 "Distinguished Barristers of 2008," by The Indiana Lawyer and listed as an Indiana Super Lawyer®. At the national level, Robert's legal peers have recognized him as one of The Best Lawyers in America® in the fields of Personal Injury Litigation – Defendants; Product Liability Litigation Defendants. Robert is a frequent lecturer on a wide range of continuing legal education topics and is a long‐term faculty member of the National Institute of Trial Advocacy (NITA), volunteering several weeks each year to teach NITA's Regional and Midwest courses on "Deposition Skills" and "Building Trial Skills." He has also been involved for years in teaching Trial Advocacy with ICLEF.
Robert's impact upon the people of Indiana has even been noted at the highest levels of our State government. In 1989, then‐Governor Evan Bayh bestowed Indiana's highest honor on Robert, naming him as a "Sagamore of the Wabash." Robert has had a great impact on the legal community and the firm, contributing significantly in the areas of politics and community service. Robert has run numerous political campaigns in the State and Marion County including campaigns for U.S. Senator, Secretary of State, Gubernatorial, and several judges.  He has also managed numerous candidates at state conventions.
He was instrumental in the planning, fundraising, and implementation of various programs intended to beautify, enrich, and otherwise aesthetically improve the Indianapolis community, particularly the inner city.  Beginning in the mid‐1990's, Robert spearheaded efforts to plant hundreds of trees along West Street, the main corridor to and from the downtown area   and received an award for Outstanding Individual for Urban Forestry for his dedication and commitment to Indiana's urban forests. He continues to this day to raise and contribute significant funds necessary to maintain this horticultural investment in the community. Since 1995, he has served as the Chairperson or Vice Chairperson for the White River State Park Development Commission.
Robert 's  skills  and natural leadership ability, combined with his business and insurance knowledge, have served to nurture and develop a community of trial and business lawyers at Lewis Wagner. Working daily alongside his partners, Robert applies his leadership, mentoring and teaching skills, to create a culture of excellence that will ensure the firm's ability to confidently meet its clients' legal need far into the future.