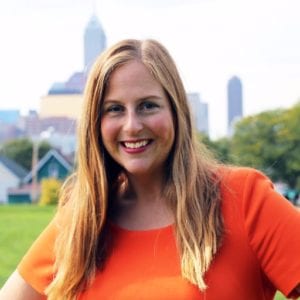 Linda Broadfoot comes to her role as Director of Indy Parks naturally. A born connector and a lover of all things Indianapolis, she is excited to advance the role of parks assets in our neighborhoods and to raise the positive profile of a crucial city agency.
Prior to Indy Parks, Linda had the opportunity to work in the world of advertising at Well Done Marketing, where she was the Director of Marketing and Business Development. She helped to grow the talent-full and socially-conscious agency and was able to broaden her contacts and marketing skills.
Linda spent most of her career raising awareness and funds for a couple of important nonprofits. She served as executive director of the Indianapolis Public Schools Education Foundation (IPSEF), where she put her fundraising and public relations skills to work to benefit our urban public education system. Before that, Linda served as vice president for development and public relations for Keep Indianapolis Beautiful, Inc. (KIB), where she worked 12 years as a proud and passionate advocate for KIB's work.
A lover of all things green, Linda even started off her career building parks and greenspaces alongside Indy Parks staff in her early years at KIB.
Community involvement is very important to Linda. She has been a member of the Indiana Recycling Coalition board of directors and chair of the board at Near East Area Renewal (NEAR). Linda was a founding board member of Giving Sum, a group dedicated to engaging emerging philanthropists in the community, where she served on the board. She's a former vice chair of the Peace Learning Center board.
Several local events and organizations have benefitted from Linda's spirit and seemingly endless volunteer hours, including the Spirit and Place Festival, College Mentors for Kids, and Leadership Indianapolis. She was twice named as one of Indy's "Best and Brightest" finalists and is the past recipient of the Outstanding Director of Volunteer Services award by Central Indiana Association of Volunteer Administrators.
Linda was honored to be selected as one of the Indianapolis Business Journal's 2013 "40 Under 40" and as a member of Class XXXIII of the Stanley K. Lacy Executive Leadership Series. She has bachelor's degrees in marketing and French from Butler University and a master's in public affairs from the School of Public and Environmental Affairs at IUPUI.
In her spare time, Linda soaks in arts and cultural events, trains for sprint triathlons, rides her bike all over town, hikes in as many parks as she can, and cheers on the Butler Bulldogs. Linda and her new husband, Jeff, are proud residents of the Little Flower neighborhood on Indy's Near Eastside.