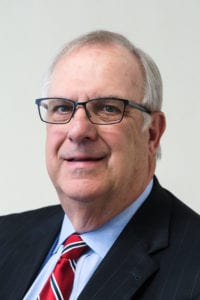 LOUIS (LOU) E. GERIG
Lou Gerig is president of Sease, Gerig & Associates (SGA), an Indianapolis-based consultancy focused on management, communications and public relations.  He and his partners, Dr. Gene E. Sease and David Sease, purchased the firm, formerly called Howard S. Wilcox Inc., on Jan. 1, 1987.
Prior to his ownership in SGA, Mr. Gerig served five years (1982-87) as vice-president of public and governmental relations for Merchants National Bank & Trust Co. of Indianapolis, now PNC Bank.
From 1981 to 1982, Mr. Gerig served in President Ronald Reagan's Administration as an assistant to White House Press Secretary James Brady. He was in charge of all non-Washington press that does not cover the White House on a regular basis.
Mr. Gerig first went to Washington, D.C., in 1978 to be press secretary for U.S. Senator Richard G. Lugar (R-Ind.), holding that position for more than three years. Before joining Sen. Lugar's staff, he served from 1972 to 1978 as director of public relations at the University of Indianapolis (formerly Indiana Central).
He began his career as a teacher in the North White (Ind.) School System. His first teaching job was in Reynolds, Ind., where he taught history in grades six, seven and eight. He also coached all sports during his teaching career from 1968 to 1972. He also was a reporter for the Monticello Herald Journal from 1970 to 1972.
Mr. Gerig earned his degree from Anderson University, where he served as a member of the Board of Trustees for more than 30 years. He was chairman of the board for more than 20 years. He also was named the University's "Outstanding Alumnus" in 1981.
Mr. Gerig has been actively involved in the community. Recently, he has been appointed by Indiana Gov. Eric Holcomb to the White River State Park Development Commission. He has previously served a variety of organizations, including Christian Theological Seminary, Wishard Foundation Board, Leukemia Society of North America (Indiana chapter), and Benjamin Harrison YMCA. He also chaired local, national and regional media coverage of the 1987 Pan American Games, which placed Indianapolis on the map as the "Amateur Sports Capital" of the world.
Mr. Gerig resides in Indianapolis with his wife, Beverly. They are the parents of two children, Nataly Gerig Wrege and J. Tyler Gerig, and have five grandchildren.